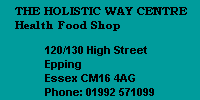 THE HOLISTIC WAY CLINIC
We offer the following therapies:
Acupuncture, Aromatherapy, Allery Testing, Herbal Medicine, Counselling, Holistic Massage,
Healing, Reflexology, Reiki, Shiatsu and many other therapies.
We also run self-awareness and practical courses for these therapies.

HEALTH FOOD CENTRE
We specialise in Homeopathic and Herbal Medicine.
We stock food for vegetarian, vegans and diabetics.
The centre offers Natural Food Supplements,
Vitamins, Sport Aids and Body Care products.
Holistic Way On Sky Pages